The Internet Source for Naturally Reared Puppies and Kittens

We hope to make this web site represent

the largest international listing of

NR Breeders on the internet.  We are

here to serve you, the NR Breeder, to the end of encouraging the healthy, supportive, and holistic rearing of your carefully bred puppies and kittens throughout their lifetimes. 

Listing with NR Breeder means listing

with a targeted audience specifically

looking for a breeder who's puppies or

kittens have not been raised on highly

processed or even toxic pet food

products, over-vaccinated, chemically altered by monthly pesticide products,

surgically mutilated by infant hysterectomy or castration, or

endangered by the implantation of

such things as RFID microchips.

While individual NR Breeders will vary

as to their specific protocols of care and

rearing, most will consider the description

above to be a generally acceptable

definition of an NR Breeder.  If your own

protocol differs greatly from this general

definition in several areas, we request

that you do not seek to be listed with

NR Breeders.

If your protocol reflects and embraces

this general definition, then this is the

site designed specifically for your

breeder listing!  Welcome!

Breeder ads will be catalogued first by breed group, and then alphabetically

by breed.  If the registry becomes large

enough within a particular breed, it will

then be broken down into geographic

listings by country, state, and province

as appropriate.

All listings will include the following:

* Your kennel or cattery name;

* Breed Registry (CKC, AKC, UKC, ANKC,

     KC, NCC, CFA, TICA, etc.)

* Free link to your web site and / or

     email address;

* Appropriate photo;

* Up to thirty words of sub text

The yearly cost for listing with

NR Breeders is just $25 (U.S) and you

can pay for your listing easily

with our PayPal button, below.

NOTE:

All new listers placing a link back to

NR Breeders on their web sites will  receive a FREE additional six months

listing, totaling 18 months

(a full year and a half!)

at the 12 month price!

So, list with us now, and link to

our site, and your kennel or cattery

box ad will be appear on

NR Breeders for a year and a half

at a cost of just  $25 (U.S.) !

Business ads will be listed separate from

breeder ads.  If you have a business that

relates to the needs of NR Breeders and

NR Pet Owners, and would like to

advertise on our site, please email us

regarding your interest.

We reserve the right to refuse any listing

or any renewal listing request.

Send us:

* Your kennel or cattery name;

* Breed Registry (CKC, AKC, UKC, ANKC,

  KC, NCC, CFA, TICA, etc.)

* Web site and / or email address;

* Appropriate photo (no larger than

     200 pxls by 200 pxls - will be resized)

* Up to thirty words of sub text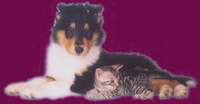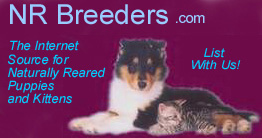 You can add either a text link,

or our banner logo (above)

to your web site

<a href=http://www.nrbreeders.com>Visit The Internet Source

For Naturally Reared Puppies and Kittens: NR Breeders .com</a>